Bangkok can be cheap and cheerful.
But it wants to be shiny and expensive.
This juxtaposition between two divergent economies can make life confusing for tourists and expats.
In what other city might you spend more money on a bell pepper than on your hour long commute to work?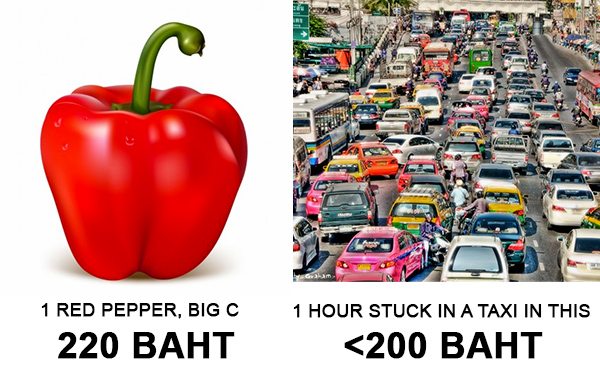 Bangkok, baby!
Home to the irrational.
Here's a selection of the best and worst value trade-offs you'll face while living in Bangkok.
What is Underpriced in Bangkok?
Taxis and Transportation
Underpriced
Every single friend I've introduced to this city has been blown away by the meagre cost of that initial taxi at Suvarnabhumi.
฿250 for a 45-minute hellraising dash straight into the pulmonary artery of downtown Bangkok?
That's a steal in anybody's currency.
Of course, taxis are as cheap as they are dangerous.
Likewise for motorcycles and buses — cheap as chips, but both merit a stiff drink at the end of the journey with all of the money you've saved.
Tuk-tuks, however? Be prepared to barter or you'll be taken for a ride in every sense of the term.
Eating Out
Underpriced
The reason I fell in love with Bangkok was its mouthwatering array of food-to-die-for.
It doesn't matter what flavour of cuisine you're after, chances are Bangkok has it twice as cheap and twice as tasty as its original pioneer.
If you want to enjoy high-end cuisine, check out Gaggan; the famed Indian restaurant on Ploenchit Road ranked the best restaurant in Asia.
Here the tasting menu will set you back ฿2,500.
Compare that to the UK's top-rated restaurant, Heston Blumenthal's The Fat Duck, and you will be paying around ฿13,400 for the same privilege.
Whether you are gobbling Pad Ka-Prao in the street, or fine-dining at Bangkok's top eateries, the Check Bin is rarely a dagger through the wallet.
Cigarettes
Underpriced
One of the things you'll notice about vices in Bangkok is that they become much cheaper if the locals like to dabble in them too. Smoking is one such vice.
If you can stomach the grotesque depictions of rotten teeth on the packaging, a pack of Marlboro will set you back around ฿90, compared to a whopping ฿475 in the UK.
Casual Sex
Underpriced
Bangkok is the Sexpat capital of the world.
It certainly didn't get there by overcharging for rough and tumble.
Paradoxically, many of the men who rely on prostitution over here will tell you that "it's getting too expensive", or that "prices have gone up stupidly over the years".
Terrible news for their wives, who may soon have to cut costs and bring the insufferable chore back in-house.
Short-Term Accommodation
Underpriced
Thailand has some of the most affordable luxury hotels in the world.
I took a trip to Hong Kong recently. The square meterage per dollar made me want to gouge my eyes out with a rusty steak knife.
It is rare to find such a crowded metropolis where central accommodation remains so cheap and luxurious.
Bangkok's hotel market beats the living crap out of South East Asia in this regard. A decisive win.
What is Overpriced in Bangkok?
Marrying Your True Love
Overpriced
Love does not come cheap in Thailand, whether you are Khon Thai or Farang.
Just recently on this site, Luis Garrido-Julve explained the immense cash cow otherwise known as: marrying in to a Thai family.
Ah yes, sin sod:
The act of paying your wife's family for the privilege of marrying her.
I hear your justification, traditionalists:
But it's culture!
But it's showing that you can take care of the daughter!
But it's tradition that has been passed through the ages and must therefore remain unquestioned!
Yes, but… it's also frankly absurd.
As a Western Millenial, if I were asked to part with my hard earned cash to fund the boomer generation's Baby Girl Cashback Reward Scheme — my answer would be, well, unpublishable.
Family Days Out With The Farang
Overpriced
You don't really need me to explain this, do you?
Dual pricing in #Thailand – RT @stephffart: Thai national parks pic.twitter.com/QlZJvsHcJs

— Two Price Thailand (@2pricethailand) April 3, 2016
The writing is, quite literally, on the wall.
Thai adult: ฿30
Alien foreigner: ฿100
Imagine a similar attempt at dual-economics outside the UK Houses of Parliament:
Tour Ticket for Brits: £10
Tour Ticket for Thais: £50
Thailand would be, quite rightly, up in arms.
Mind you, if you've ever seen a group of Asian tourists trying to buy train tickets in London without using an Oyster Card, you've pretty much seen the same thing.
Eating In
Overpriced
One of the great paradoxes of this city is how eating out can be so cheap, when buying the ingredients yourself to cook at home is so expensive.
Grocery store premiums? Economies of scale? Shopping in the wrong places?
It's strange foodenomics.
On the bright side, I'll take any good reason to avoid Big C.
Live Music Events from Jaded Pop Stars
Overpriced
Exhibit A:
16,000 of my finest bahts, Madge?
Does that include the bar fine?
Sweet Jeezus.
Nothing says showing your appreciation to fans in a developing country like milking them dry for half a month's salary.
Prime Real Estate
Overpriced and Underpriced
Don't get me wrong.
Accommodation in Bangkok is outrageously good value, especially with your facilities thrown in:
Access to the gym
The empty pool
That reassuring figure of your guard buried in his morning newspaper.
But irrational market forces make bargaining for real estate a bag of pot luck.
The apartment on the floor beneath me is marketed at ฿65,000 and has been vacant for 4 months.
In a typical economy, if you can't find a tenant for your unit, you shift the price downwards to widen the market of potential takers.
Not in Bangkok.
The owners have decided that in order to make up for 'lost income', they will raise the price of the unit. So it's now being marketed at ฿70,000 — despite the fact it's had a steady flow of visitors, week after week, none of whom have taken the bait.
Sounds like some #ThailandOnly logic.
What do you find overpriced or underpriced in Bangkok?
Comments
comments