Sukhumvit Soi 55 – otherwise known as Soi Thonglor – is an absolute treasure trove.
Quirky bars? Check. More restaurants than you could eat at in a year? Check. So many beautiful people that you regret wearing those scruffy shorts? Double check.
Joining Phetchaburi with Sukhumvit, a walk down Soi Thonglor is a fair old tab – clocking in at around 2.5 kilometres. That's not counting the square metres of its myriad of sub sois that contain arguably even more good stuff than the main stretch.
We've collected all of Soi Thonglor's biggest hits – from cafes and restaurants, to bars and clubs, to art spaces and gaming lounges.
Let us know what favourite Thonglor venue of yours we've missed.
Eating
Thonglor Soi 13
Redefining 'gastropub' is the brilliant Little Beast – a European and American fusion restaurant that's criminally underrated.
They serve up innovative incarnations of French and American-style food, with occasional flashes of nose-to-tail eating. They also have some delicious cocktails on offer and a monthly Chinese sunday brunch, abundant in dim sum and Chinese classics; not to be missed if you fancy an alternative fancy breakfast once in a while.
Little Beast was included in the Louis Vuitton Bangkok City Guide and it's not hard to see why.
Thonglor Soi 8
Thonglor is known for its artful takes on northern Thai and Isaan food, whether it's at Soul Food Mahanakorn or the Supanniga Eating Room.
But if you want the best of what the South has to offer without leaving the comfort of Soi Thonglor, you've gotta head to Phuket Town. Authentic, delicious and huge portions, Phuket Town is especially adept at seafood and curry dishes and shouldn't be missed out on.
888 Soi Thonglor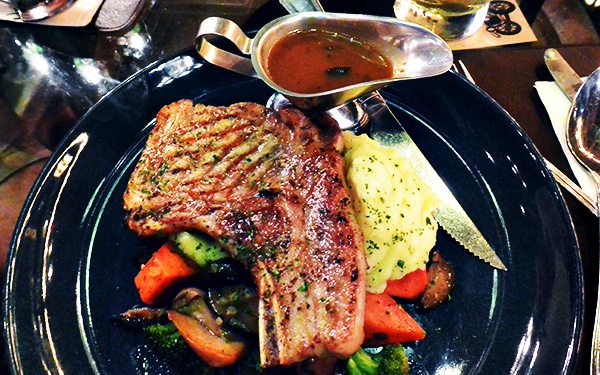 Something of a Thonglor institution, Bottoms Up is a restaurant bar with a distinctly Japanese vibe and a HiSo clientele. It describes itself as a "fresh fashion eatery" which is pretty indicative of the sophisticated girls and their lapdog boyfriends who line the sofas near the bar.
But fear not; the food is good and reasonably priced while the drinks flow easily. The music is loud and the atmosphere, at least at the weekend, screechily raucous.
160/11 Soi Thonglor
A perennial favourite in Bangkok's Thai restaurant scene, the food at Supanniga is above and beyond many of its peers: authentic and delicious dishes passed down through the generations.
Prices are reasonable, even for Thonglor, and the food is robust and generous. No pretension here: just damn good food.
Nihonmura Mall, Thonglor Soi 13
This American restaurant is one of Thonglor's prime breakfast and brunch spots.
We're talking omelettes, eggs Benedict and avocado toast, alongside American favourites like chicken and waffles, pancakes and biscuit sandwiches (whatever those may be). They also whip up a score of mean freshly pressed juices.
Arena 10, Thonglor Soi 10
If you love chicken wings, chances are you're going to love SWAY.
With all-you-can-eat deals for just ฿300 on Sundays and Thursdays, as well as regular events like ladies' nights, beer pong competitions, live DJ sets and more, this is the place to be for wing fanatics who like to make a night of it.
It's not only wings, however – salads, sandwiches, burgers, poutines and more are all on the menu, while cocktails, beers and wines are flowing.
Thonglor Soi 13
Chances are you'll have seen the creations of After You if you've spent any time on Instagram lately: their desserts are so iconically huge and gluttonous that it's pretty hard to look away.
There are After You branches all over town, but this one – wedged between Seen Space and J Avenue – is the spot to check out if you fancy Thonglor with a few tonnes of sugar.
Penny's Balcony, Thonglor Soi 16
Mellow is one of the hottest dining spots in Thonglor thanks to its simplistic elegance: good food, stylish atmosphere, delicious cocktails.
Whether you're going for dinner at the weekend or hitting up happy hour in the week (2-4-1 Sunday to Thursday 5-7pm, whaddup), Mellow reliably delivers on all fronts.
Drinking
125 Soi Thonglor
Rabbit Hole is one of Thonglor's most sumptuous bars, with a speakeasy feel (there's no sign on the door) and a boudoir-style interior design.
Craft cocktails are the name of the game here, carefully prepped and artfully presented by the famous mixologists behind the bar. There's plenty of seating and a fun, buzzing ambience: the atmosphere complementing the gorgeous interiors.
Drink recommendation? It's gotta be the Peach Old Fashioned, smoked with cardamom, cinnamon and sweet peppers.
Opus Building, Thonglor Soi 10
The perfect spot for those who appreciate the Desi nightlife culture, Desi Beats has shisha smoking, Punjabi and Bollywood tunes and a beautiful Moroccan style of design that attracts a diverse Thonglor crowd.
There's also a lovely rooftop area and – if it starts getting too busy – just head over to Bangkok Bar Infinity next door.
402 Soi 55
If there's one bar you've heard of in Thonglor, chances are that it's Iron Fairies.
Decidedly dark, quirky and ethereal, Iron Fairies is worth visiting for the Harry Potter slash Steampunk-esque decor alone. Designed by Bangkok maestro Ashley Sutton, we guarantee you haven't seen a bar like it — unless you've been to one of his many other bars across the city…
Thankfully, it's not all style and no substance at the Iron Fairies. Acclaimed mixologist Joseph Boroski has designed a creative and unique cocktail list, why the regular live jazz music will delight the masses.
J Borowski Mixology
Soi Thonglor
And on to the man himself. For those that enjoy a bit of detective work before they settle on a bar for the night, you could do worse than J Borowski Mixology. It's exact location is a closely guarded secret but BK Magazine hint that "odd numbers side, single digit soi, girls in red at the corner". Also, it's on Google Maps.
These are very much cocktails with a twist: each is crafted to your own taste and preference, and there's no menu. Prices are inevitably comparatively high but it is undeniably quite the experience.
Thonglor Soi 6
Black Amber started life as a barbershop and has now expanded to become a 'social club': or, more fittingly, a gentleman's whisky bar. Much like the original barbers, Black Amber is inherently stylish and the absolute definition of a sophisticated man cave.
Leather furniture complements rich mahoganies, dark wood, and boudoir-style ornamentation, while soft lighting and a well-stocked bar ensures that Black Amber is a perfect networking venue for like-minded individuals.
Exploring
1000/39 Liberty Plaza
This one's for the geeks.
Nestled down at the very end of Soi 55, just before the bridge to Phetchaburi Road, is the brilliant Game Over: Bangkok's first and only electronic playground. From hardcore PC gaming to boardgames, pool and even beer pong; if you're a gamer, you'll find heaven here.
The in-house cafe also serves up delectable Thaiger burgers, amazingly thick malt milkshakes and some exquisite truffle parmesan fries.
At the top of Soi 55, between the 2 flower stalls on the right side of the road from Sukhumvit
Hidden at the top of Soi Thonglor is the kooky Thong Lor Art Space – a coffee shop cum gallery cum theatre.
Plays, art exhibitions, music and specialist events are held regularly in this small space, which has a distinctly hipster vibe. They recently held a party in honour of cassette tapes, in case you need convincing. Keep an eye on their Facebook page to keep abreast of their latest events.
Thonglor Soi 17
Around halfway down Soi Thonglor, you'll find the very new and fresh The Commons – a lifestyle mall focused on good food and good drinks.
Foodie outlets inside include ever-popular Neapolitan pizzeria Peppina, Chinese street food at Xiao Chi, authentic Mexican Barrio Bonito, rib barbeque Meat & Bones, brunch favourite Roast, winning Thai Soul Food 555, puff-pastry pies at Holy Moly and, er, egg-based extravaganza, Egg My God.
For drinks, Track 17 is the newest cocktail bar shaking up Bangkok, while The Beer Cap is for those who enjoy a nice craft brew.
Seen Space
Thonglor Soi 13
Seen Space is another quasi-lifestyle mall populated with cool little eateries and restaurants that's particularly popular on Friday and Saturday nights.
Outlets include Brew Beers and Ciders, Mr Jones' Orphanage Milk Bar, Japanese barbeque O-Jung Premium, Belon Oyster and Raw Bar, Bonchon Chicken, Clouds (another bar from Ashley Sutton) and Japanese Azamaya. Fashion stores and a beauty spa are also in situ.
Soi Thonglor
That's right, it's another lifestyle mall slash community courtyard slash latest place to see and be seen at.
Visually, it's very similar to The Commons; all concrete and greenery with a handful of trendy eateries and bars. If anywhere is likely to take Seen Space's mantle as the place to be on a Saturday night, it's 72 Courtyard.
Here we have Lady Brett – a barbecue joint from renowned chef Jess Barnes – Mexican restaurant Touche Hombre and coffee Mecca, Rocket X. Cocktails are on form at UNCLE while new club Beam promises an experience to rival Badmotel.
Thonglor Soi 3
If you fancy escaping Thonglor but can't quite be bothered to leave the soi, try out the Root Garden on Soi 3.
Described as an 'urban farm', it's a coffee shop in the midst of a traditional farm that can be used as a workspace as well as somewhere to relax from the hubbub. They also hold regular fairs and markets, and there's a roster of agricultural activities for both adults and children twice a month.
Eight Thonglor, 88/36 Soi Thonglor
This is a beautiful vinyl and CD store with a wide selection of artists and genres on offer: anything from NWA to Lorde to Belle & Sebastien to Acid House Kings to Bowie.
A cult classic and a must-visit for vinyl enthusiasts.
Staying: Hotels on Soi 55
4* hotel
Swimming pool, sauna, hot tub and fitness centre
Each room has separate living and dining areas
Free shuttle to Thonglor BTS
5* hotel and serviced apartments
Swimming pool, spa bath, sauna, fitness room, beauty salon and sun terrace
Airport shuttle available
Restaurant and library
Free shuttle to BTS Thonglor
3* hotel, just 800m from Thonglor BTS
Behind The Scene bar
Boutique — only 20 rooms
3*, adults only hotel
Coffee shop
Swimming pool, massage and fitness centre
Spa baths and separate rainshowers
4* hotel composed of studios and suites with fully furnished kitchenettes
Swimming pool, fitness centre and restaurant
Free parking
Business centre, library and lounge area
Airport shuttle available
4* hotel within walking distance of BTS Thonglor
Coffee shop with open-air terrace, offering all-day dining and free breakfast
Saltwater swimming pool, sauna, library, fitness centre, pool bar and sun terrace
24-hour 2-way free shuttle to BTS Thonglor
Featured image is by Ian Fuller and used under a Creative Commons licence
Comments
comments