Sukhumvit Soi 23 has somewhat of a reputation.
Home to the infamous Soi Cowboy and its fair share of massage parlours, this long and meandering Soi is often unfairly pegged as a nothing more than a cheap and sleazy nightlife destination.
While this is certainly an aspect of the Soi's character, there's a whole lot more to it.
A bunch of good restaurants – with a focus on Japanese cuisine – and a number of quirky watering holes are all found here and there's also a great selection of furniture shops and (non-sexual!) spas.
Once you've ventured past the Prasarnmit Plaza building, the road transforms. Good restaurants, high rise condominiums and delectable street found abound. You'll even find the Indian Embassy and Srinakharinwirot University.
Let's take a look around.
Food
As well as a bunch of sports bars and pubs serving up pub grub and other niceties, there's a fairly robust selection of eateries to be found down Soi 23.
The most represented cuisine in the Soi 23 cluster of streets is undoubtedly Japanese. It would be foolhardy to attempt to list them all but a few for your delectation are Sha Raku, Izakaya Suika, Lovely, Mitsumori of Tokyo, Akari Chirashi Bar, and Uma Uma.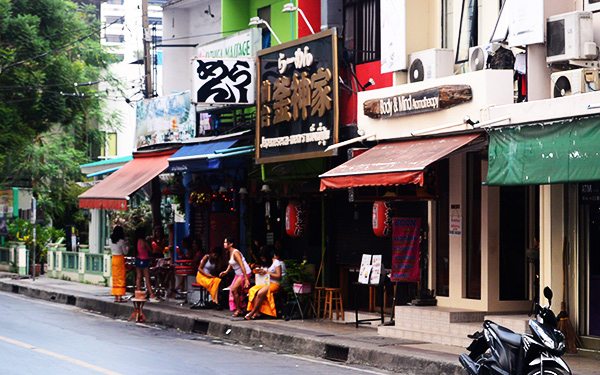 Thai comes in the form of Baan Khanitha, The Local, Bharani and Puangkeaw, together with a number of holes-in-the-wall and street carts.
Also in evidence are Spanish restaurants with the Barcelona Gaudi and El Lugar. South American is here with the Sabroso Mexican Bistro and Cali's Grill.
For Vietnamese, choose Le Dalat or Madam T, while French is represented by Le Petit Bistro, Cafe Riviera and JP.
Italian is also out in force with Giusto, Pizza Mania and Chef Yan Pizza, while Indian food lovers have got Indian Chaat and Indian Chef on the doorstep.
Pick up some classic English bites at the Fish & Ship and Queen Victoria Pub or if you'd prefer a more casual cafe experience, opt for IWane 1975, Addictions, Nikko Cafe, Pak Bakery, Eat O'Clock, It's Happened To Be A Closet, Serendib Tea Room, Feedpoint Bakery for bagels, Coffee Rio, Casa Lapin or SM Fashion Cafe.
Drinking
If you don't fancy the neon of Soi Cowboy, there's still a bunch of pubs and bars down Soi 23 eager for your custom.
If it's sports bars you're after, The Clubhouse, Bradman's Bistro and The Crossbar should be on your radar.
Beer gardens can be found at Craft, Whisgars and The Queen Victoria. You can grab a quiet beer in the cosy Bulldog Brewhouse too.
If you're a fan of Japanese culture, the Sakura Bar and Karaoke, Love Shack, Outer Room and Club Anase are just a few of the quirky bars open to your custom.
Club fans can't get enough of underground club Glow and Narz across the street.
Hotels
Although not quite as jampacked with hotels as neighbouring Soi 21, there's still a handful of boutiques to rest your weary head.
Jasmine City Hotel, Taipan Hotel, Admiral Premier Hotel, House23 Hotel, Little Vacation House, Two Three Mansion, Citadines Sukhumvit 23, Bodega, BanSabai Hostel, and GMM Studio are all on Soi 23.
The new, international Pullman Grande Sukhumvit also backs on to the street.
Spas
Fear not; it's not just massage parlours down Soi 23.
Spas come in the form of Raintree Spa, JJ Spa and Massage and Mulberry 23, for starters.
For nails and hair, check out Nail Plus Signature, Element Hair Studio, Studio 23 Hair Design and the Handy Nails Spa and Salon.
More heavy-duty cosmetic treatments can be booked at the Blink Clinic.
For Yoga, check out the brilliant Yogatique.
Furniture
High quality and modern furniture is in abundance down Soi 23 with stores such as Katherine Brown, Grid & Co, Unforgettable, Incredible and Eligible all at home here.
There's also the Union Victors Glass Gallery for those into sophisticated glassware.
Anything else?
Turns out, there is – Soi 23 is a bloody long road.
Aside from all the restaurants and stores inside the Prasarnmit Plaza, Young Place and Silom Village, it's also home to the following hard-to-categorise places:
Johann Kitchen and Bangkok Thai Cooking Academy for cookery classes; a craft store in Gifted Hands; Thai silk at Almeta; study at the Thailish Language School; The Sukhumvit 23 car wash; and superbikes and scooters at Zeus.
Not to mention the delights of the flesh waiting for you down Soi Cowboy…
What's your favourite spot on Soi 23?
.
.
Comments
comments